When Moving Hearts reformed in 2007 after an absence of 20 years their series of sold out concerts in Dublin's Vicar Street were described as "Breath-taking and Powerful". One reviewer of the subsequent DVD said "This is one of the most spirited and mind blowing performances ever captured on film".
When asked why MH had reformed in 2007 one band member described it as "Unfinished business", "when we last played it was as an instrumental band and we always felt we hadn't finished exploring the possibilities of our unique line-up". The following two years saw acclaimed concerts around the world from the Festival Hall in London to The Royce Hall in UCLA and the major Festivals and Concert Halls of Europe.

Moving Hearts to headline FolkFest Killarney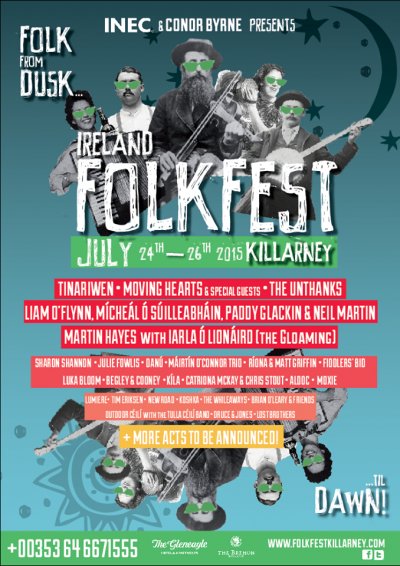 16/04/2015
One of Irelands most influential bands Moving Hearts and special guests
The legends that are Moving Hearts return to the stage to headline the inaugural Killarney FolkFest 24th July 2015. This ground-breaking band, who have inspired many well known traditional musicians to follow in their footsteps, are famous for their thrilling live performances since coming on the scene in 1981. The line-up includes renowned producer and composer Donal Lunny on bouzouki, the legendary Davy Spillane on uillean pipes, Eoghan O'Neill on bass, Keith Donald on saxophone, Noel Eccles on percussion, Liam Bradleyon drums, Anto Drennan on guitar and Graham Hendersonon keyboards. .
Special guests